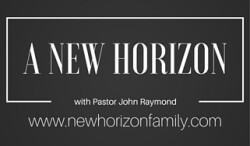 Pastor John Raymond from New Horizon Church in Slidell brings a refreshing and practical word in 5 minutes or less. These Daily Devotions will lift your spirits and give you something to think about.
New Horizon's doors are wide open to people from all backgrounds, regardless of where they are on their spiritual journey. They are a friendly, life-giving church and their goal is to infuse life and God's love into people and families through engaging, powerful worship services that offer biblical truth in relevant and practical ways.
Theie goal is to build the kind of church described in the Bible, that offers relevant teaching, heart-felt worship, honest friendships, constant prayer, and compassionate care for those in need.
Their vision is to build a dynamic biblical church that has local contact and global impact. In short, they want to be the kind of church that can influence the world for the cause of Christ one life at a time…and that begins with you.